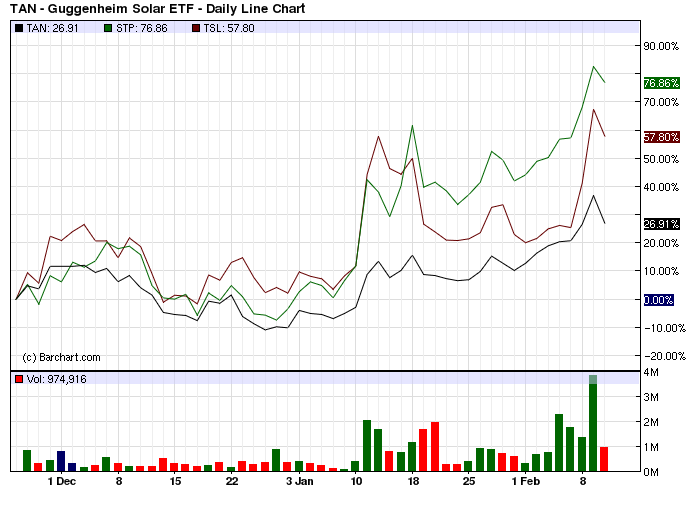 Source: Barchart
Yesterday, the solar sector had a blistering day, with the overall Guggenheim Solar ETF (TAN) up 8%. Moreover, our three main stock recommendations, Yingl Green Energy (YGE), Trina Solar (TSL) and Suntech Power (STP) were up +20.4%, +18.6% and +8.6% respectively.
As welcome as these moves are, they now raise the always tricky issue concerning where to take some interim profits on a trade that has moved very quickly in the right direction. Back in late November, when the solar sector was still being pummeled and TAN was down -61% on the year, we recommended getting long a basket of the three Chinese tier one solar stocks mentioned above. You can read our original recommendation here. These have now performed remarkably well. TAN is of course up +36.7%, as the overall solar sector has recovered. However, our basket of stocks has heavily outperformed. STP is up +82.5% from its close the day before our buy recommendation in late November. TSL is up +67.4% and YGE up +54.9%.
Just as it was very worthwhile getting long when the price action looked so bearish, it is probably worthwhile taking some profits now, whilst everything looks so good. There is little reason to suspect that the solar sector will not continue to be extremely volatile. Consequently, although the rally may well continue from here it may well pay to be nimble.
As an overview, from late last year, we started to see a number of factors capable of reversing the supply-demand imbalance in the solar sector which had devastated solar stocks for much of 2011. In particular, four factors have been instrumental in improving the outlook:
On the demand side, the rest of the world has been making up for slack demand out of Europe. As a key example, the data for Q3 2011 pointed to blistering demand in the US – more detail here. Data just released by Solarbuzz for Q4 also shows a new quarterly peak of 0.93 GW for new installations in North America as a whole.
Likewise, China and Asia are showing extremely strong demand growth – see our article on the issue here. 
And most importantly, on the supply side, the major Chinese players have drawn a halt to their excessively aggressive capacity expansion plans – more detail here. 
In addition, from a more psychological point of view, Warren Buffett's forays into the solar arena have aided sentiment – for more detail see here.
All of the factors above have no doubt played a part in bringing us off of the bottom in solar stocks prices seen at the end of last year. Clearly, however, the consolidation in the industry is a double-edged sword.
On the positive side, falling prices are taking us ever closer to the holy grail of grid parity. Moreover, last year's fall in spot polysilicon prices should increasingly feed through into lower polysilicon contract prices as 2012 progresses – helping production costs to fall further. 
This process has led significant players in the industry to see grid parity as being only a few years off. For example, CEO of Suntech Power Zhengrong Shi told Bloomberg News recently in an interview at Davos that, "Solar is getting so cheap…..We believe by 2015, there will be around 50 percent of countries that reach grid-parity."
Our main thesis has been that this process will create a large-scale and profitable global market for those core low-cost producers who survive the current period of industry consoliudation. That thesis remains very much in place.
However, falling average selling prices and margins continue to pressure earnings and losses remain in prospect for the main players in the quarter ahead. This suggests that the tug-of-war between the negative earnings created by the process of consolidation and the grid parity opportunities created by the very same process will continue. 
In this environment and with our core holdings up between +55% and +83%, it seems reasonable to take some profits.  The long-term story remains intact and no doubt this volatile sector will provide opportunities once again in the future.
Disclosure: I have no positions in the stocks discussed.